WHOLE CINEMA IN COMFORT OF YOUR OWN HOME!
TINY PROJECTOR PRO™  is a great little tool, roughly the size of a smartphone, which can be used anywhere you want. All you need is a laptop or a mobile phone to play your favorite movies. Not only is it super lightweight (less than 10oz/250mg!), but it is also very small, easily fitting in your backpack or a handbag. It can be powered by a portable battery / powerbank - no need for A/C power supply.
A PERSONAL MOVIE THEATRE EXPERIENCE
60 INCHES FULL SCREEN
Finally, a tiny, portable projector that can turn your living room or any surface into a full-blown home theatre with an image up to 60 inches diagonally! 
Immerse yourself in lifelike image sizes. Perfect for movies and even games!
The full-featured projector is designed inside-out to be a highly versatile and easy-to-use device. Use it to project content from any of your many devices, including DVD players (if you still have one of those). It supports a vast array of connections for your convenience.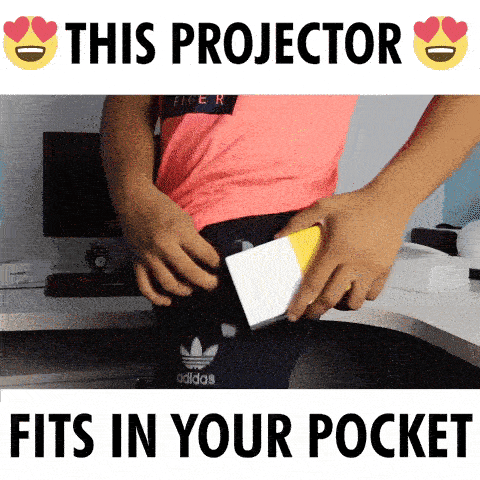 Without the annoying problems like video jitters, color problems or lamp replacements that older projectors had. 
Ideal for home theatre, movies at home or even on an outdoor camping trip! The portable projector can even be powered from just a power bank! 
10 REASONS WHY PEOPLE 

LOVE IT

!
1. World's First Affordable Projector
You no longer need to spend $1000+ to enjoy a cinema experience at home! 

2. Portable
TINY PROJECTOR PRO™  can be taken anywhere you go, thanks to its portable size and low power consumption (only 5V/2A). An ordinary 5000mAh powerbank (not included) can be used to play TINY PROJECTOR PRO™ for over 2 hours! 

3. Versatile
The projector can be connected to a portable hard drive, USB stick, memory card, smartphone, tablet, Macbook, laptop or even a TV set-top box. You can connect it via HDMI (cable not included by default), USB cable or a memory card slot. 

4. Supports All Popular Formats
The Nano Projector supports most video formats (such as MKV, MP4, RMVB, AVI) and audio formats (including MP3, WMA, OGG, AAC, GLAC, APE, and WAV). 

5. Sleek Design
The Nano Projector has a sleek, stylish design. It is very compact, measuring roughly the size of an average smartphone (5 x 3.4 x 1.9 inches, or 12.5 x 8.5 x 4.5 cm).

6. Lightweight
It weighs less than 10oz / 250g, only slightly more than a smartphone! 

7. Clear Image 
Nano Projector supports high resolution of 1920 x 1080 (full HD), providing a brightness of 400 - 600 lumens and a high contrast ratio of 800:1, at a native resolution of 320 x 240, providing great user experience and clear image in dark environments. In order to ensure the best user experience, we recommend using the projector from a 1.8m distance. 

8. Over 15,000 Sold!
The numbers speak for themselves! 

9. Loved by Our Customers
Over a thousand people have left their reviews, rating the projector at an average of 4.7! 

10. Free Worldwide Shipping
We provide international shipping - worldwide. The way it should always be.
FEATURES:
Bright and Vibrant images: 600 Lumens, accurate colors and rich contrast with deep blacks and bright whites
Compact & Portable: 5 x 3.4 x 1.8 inches and 6oz (12.7 x 8.6 x 4.6 cm and 170gm)
Projection Distance:

 0.8 - 2 m
NeverDieLamp: 30.000 hours of lamp life
Built-in-Speaker: Also features a special port to use your own external speaker
Works with any device: HDMI, USB, AV cord, 3.5mm jack, Micro SD and TF card connections
Outdoor use: 

TINY PROJECTOR PRO™ 

can be powered from just a power bank. Perfect for camping, business meeting and travels
Harmless LED light: The American Bridgelux LED light is harmless for the eye and has a very small power consumption.
PACKAGE INCLUDES:
1x TINY PROJECTOR PRO™

1x Power Adaptor

1x 3.5mm to RCA AV cable (HDMI cable not included)

1x Remote Control

1x User Manual